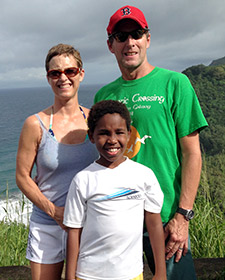 Dr. Peggy Barlow grew up in Trumbull, CT and graduated from Trumbull High School in 1983. She then attended the University of New Hampshire where she began to pursue her dreams to become a veterinarian. When she graduated from college, she took some time off from school and worked at Massachusetts General Hospital for a year and a half performing research and taking part in publishing papers. She then attended the Cummings School of Veterinary Medicine at Tufts University and graduated in 1993.
After graduation she spent some time working on large and small animals in Michigan and New Mexico before returning to the east coast and Massachusetts. She became the business owner of Water's Edge Veterinary Hospital in May of 2000.
When she isn't working at the office, she is often found in the garden in front of the hospital, in one of her many gardens at home, riding her bicycle, or playing with her two dogs. Her two fur babies are a black lab named Baxter and a Jack Russell named Fiona. Her family keeps her busy too, attending her son's soccer games with her husband Pat and spending as much quality time together as possible.